Giveaway with onGamers and SwapGaming #2 – Winners announced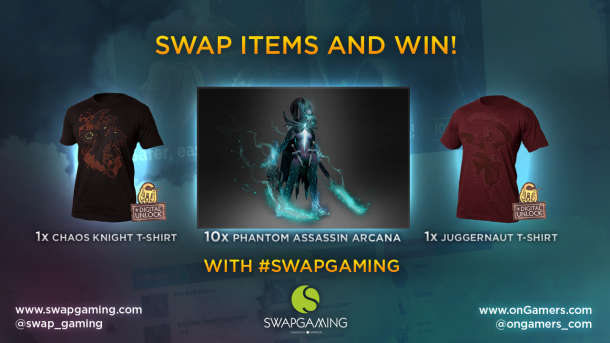 UPDATE:
We have drawn the lucky winners of the 10x Phantom Assassin Arcana and the two T-Shirts.
The Arcana Winners are:
Chief_EGZ
killerbfly
darkvadou
liilosnk
ThatAngryMan
T-Shirts will go to twitter users:
firdhana (Chaos Knight T-Shirt)
peyika (Juggernaut T-Shirt)
Congratulations to the lucky winners!
As we promised earlier this year, the giveaways are back. In collaboration with SwapGaming we are once again ready to give out sweet items to our readers. To those unfamiliar with SwapGaming - the website is dedicated to helping people swap in-game Dota2 items for free and works by following these four easy steps:
Request items - simply request the items you want
Offer items to swap - tell SG what you offer for them.
Submit your swap - you give your offered item(s) in escrow
SwapGaming makes it happen - request is matched and a swap is successful
More information regarding the process can be found on SwapGaming's official website.
The giveaway starts right now, on the 12th December and will conclude on 22nd December. The lucky winners will be announced on our website a day later, on the 23rd December. Without further ado, here is what you can get your hands on should you be lucky enough:
To enter our giveaway, you must complete the following steps:
Register on the SwapGaming website over here. Keep in mind you need to verify your Steam account.
Ten lucky players who complete a swap will be eligible to receive one of the ten Manifold Arcana Paradox bundles
Two lucky players who follow and retweet the onGamers tweet will be eligible to win either a Juggernaut or a Chaos Knight shirt. Remember, our handle is @onGamers_com
The winners will be announced via the onGamers twitter and our website on the 23rd December so make sure you stay tuned. Good luck with your swapping fellow players!