onGamers 2014 Cheers & Jeers: Riot's Missteps and Victories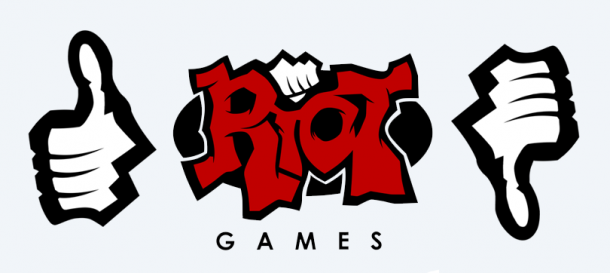 Last year at onGamers, we ran several "esports awards" articles. This year, we've decided to handle our retrospective content a little differently. For instance, through this "Cheers & Jeers" feature.
We're starting this experiment with an article on Riot Games, who overall had a very solid year of growth and success despite a few mistakes.
The following Cheers and Jeers are the result of both discussion and voting from many of our staff members. Those involved in this process are listed at the end of the article.
Jeer #5: Lack of a Chinese Expert at the 2014 World Championships Analyst Desk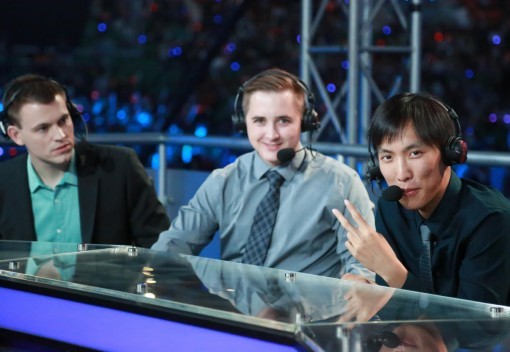 For the second year in a row, we saw the finals come down to a battle between a Korean and a Chinese team at the World Championships as western teams failed to make it past the quarterfinals. While the analyst desk managed to bring us fantastic insight, analysis, and humor on the European and North American teams in addition to MonteCristo's deep understanding of the Korean players, there once again was no sight of that theoretical "Chinese expert." Sure, the guys up there didn't just clam up the moment Star Horn Royal Club did something interesting, but for a region that continues to show itself second best, don't they also deserve a champion at the desk?
Cheer #5: Fantasy LCS
While many in the community had discussed the idea of a "Fantasy LCS" feature, similar to Fantasy Football and the like, no one could have predicted the mid-season announcement of a fully functioning, Riot-supported option. Fantasy LCS brought fans closer to players they may have overlooked before, and encouraged discussion around the actual statistics involved in each player's performance. It certainly helped that the product they created felt polished, immediate, and accessible. Now it's time to find out what the system feels like with an additional 20 players added to it.
Jeer #4: Redefining what a "Host Country" is
If we were a Korean esports site, this almost undoubtedly would have been the #1 jeer. Still, even though it didn't effect most westerners, it was a little crazy to see just how angry Riot managed to make their top esports region. More than six months after Korean fans had been lead to believe they would host every team and game that took place at the 2014 World Championships, they learned that only half the players would even compete on their soil. The fallout lead to an official letter from KeSPA president Byung-hyun Jeon and an eventual apology to the entire Korean community from Riot's CEO Brandon Beck. Brandon and Marc don't issue apologies for little things.
Cheer #4: Ten Team LCS Expansion & Tournament
We won't see the final results of it until the new guys get plugged into the system next year, but we're already excited about the twenty extra players who will be competing on stage (and in our Fantasy Leagues) starting next month. Sure, they probably won't be fighting with Cloud9 and Alliance for a top place finish in the first split, but everyone laughed at Kabum… Right up until they played the Lolesports.com "Game of the Year." Perhaps the more subtle implications will be felt in the adjusted LCS formats that an additional two teams allow for.
Jeer #3: Lack of International Tournaments
Remember IPL 5? We're not sure Riot does, despite hiring the guy that ran it. This year's international menu brought us an altered "All-Stars" tournament and the World Championships. Sure IEM Katowice happened way back in March too, but where was this year's Battle of the Atlantic? Does Riot-crafted international competition really need to be limited to once a year (+ a one team thing in May)? Here's to hoping that the supposedly leaked Tencent slide is hinting at a brighter and more global 2015.
Cheer #3: Improved LCS and Worlds Production
Remember back when the NA and EU LCS studios first got their real audiences? It's hard to remember that the new studios only came into existence 11 months ago. This year brought an end to ridiculously lengthy EU LCS pauses and game issues when the whole production came under the Riot Games banner. At the same time, the team kicked up a new weekly LCS show over in NA. Worlds went from being based out of one city, to a multi-country affair and from Staples Center to a World Cup stadium. Pretty much everything production related got a bar-raise, from casting to graphics packages. Seriously, go take a look at the early days of the LCS.
Jeer #2: Blitzkrieging the Russians (LCS UK Event and Gambit)
So many of Riot's missteps this year involved simple communication issues, but western fans will likely never forget when the company decided to let Gambit know they would be expected to fly into London "near the end of the processing timeline" for visas from Russia. When the visas didn't get processed in time(surprise!), Riot found no other alternative than to insist that Gambit still compete at the UK event which lead to them fielding only 20% of their main roster. While Riot did apologize, we can't help but feel like if the roles were reversed, someone would have ended up paying a fine.
Cheer #2: Challenger Series
A training ground for new talent and a retirement home for some of our… more distinguished pro players, the Coke League Challenger Series brought greater depth to both the European and North American LoL esports scenes. Many people doubted that fans would tune into watch amateur players duke it out, but viewership ended up solid. Next year will see the series change into a league based format – a "mini LCS" – a change that should provide even better insight into what skilled players lay just beyond the edge.
Jeer #1: Lack of Visa Rule Enforcement
Rule 1.2 of the LCS Ruleset: Residency and Work Eligibility, states that every player that competes in the LCS must be "work-eligible" in either the US or Germany respectively. It quickly became obvious this year that, in an effort to follow the "spirit of the rule" rather than the letter of it, Riot was permitting players to compete while their visa applications were being processed. While maybe a reasonable idea in the beginning, things started to get –murky- when we saw Bjergsen return to Europe and Reginald sub in, -team changing- when Brokenshard got outright replaced after his one week return home turned into a 5+ week exile, and then –absurd- when Seraph's visa issues dragged the rest of CLG across the Pacific with him, leaving a band of streamers and "Solo Queue Supa Stars" as their tag in.
With even more international players arriving in both regions, we hope that the rumors of Riot finally following the letter of their own rulebook next year are true, lest the "Chase for the Cup" turn into a relay race.
Cheer #1: League of Legends World Championships 2014 Format
The 2014 World Championships saw a farewell to byes, and a warm embrace for best of fives. Though some may still be holding up signs demanding double elimination, we have to give it to Riot for creating a tournament format that allowed all the teams a chance to face off against multiple regions and really show their stuff. Early concerns about the quality of the group stages were allayed when Taiwan brought more competition than analysts had predicted and all the cries for the removal of Wild Card teams were silenced as the Brazilians had their World Cup revenge in Alliance's final game. By the time Samsung White lifted the cup and signaled an end to the 2014 season, it was clear the new format had helped to create the best World Championships to date.
Cheers and Jeers committee members: