'The POV' Experiencing Korean Esports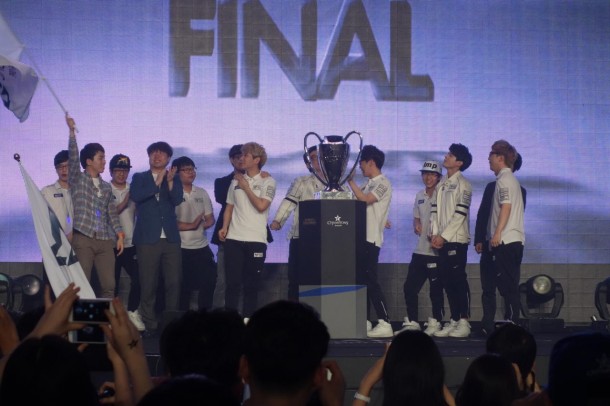 We were somewhere by the Ring exit, about half an hour from Seoul, when the fog began to take hold. I remember my taxi driver saying something like "Cashcredit? Cashcredit?" No, that wasn't right – I heard wrong. The thick Hangul accent and extra syllables was mangling "checkpoint," as we were passing by the toll booth.
Seoul was blanketed in surreality. This is my second time here, and for the same reason – the OnGameNet grand finals. Last I was in esports' own Mecca, on a pilgrimage to worship at the Korean altar of competition, it was the dead of winter, and the wind stung with the promise of snow as I shivered my way across the bay between the island-bound airport and downtown. This time, we were on the cusp of summer – thick fog, warm breeze and the strobe of passing streetlights generating a hypnotizing lull punctuated by confusing language barriers.
A lot's changed in a year. At this point, the common literary counterpoint would be to then paradoxically assert that the more things change, the more they stay the same – but that isn't really true. In a year: NaJin Black Sword goes from OGN winners to effectively dissolved, MVP Blue goes from "oh yeah, the sister team to Ozone" to a major player in the field, and the LCS kicks into gear. In a year: I've written countless articles on the global scene, gone to a handful of events, and – as is only right, proper and appropriate as an increasingly veteran writer in the field – have grown jaded and cynical in the process.
No camera man: about as expected – the plans to bring one over was last-minute, cost-prohibitive, and I loathe being in front of the lens anyhow. Camcorder turned out to be a digital camera instead – actually, swinging above par here. I didn't even have this much in 2013, and the tournament article preceding my work with LoLesports was done with a cheap loaned Powershot, made for compactness rather than quality. Same laptop, though, only it's busted up now, missing keys, and stalls a bit on boot.
And the plastic seats at the stadium are cheap, and the radios they provided the foreign journalists are almost useless, and the stream on Twitch was a mess for the first two games, precluding the use of the wifi instead, and the OGN staff insisted on segregating foreign and Korean press, which left a weird taste to the event. OGN production quality, while normally top-class, does suffer under the pressures of large events, and this despite their long history in esports. But I was too busy being hyped to care.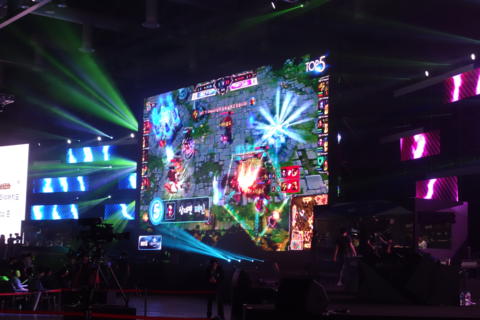 Because the games were just that good.
A Clash of Champions
This was what we wanted. Two teams at the top of their form, battling with a swiftness and decisiveness that still seems to elude their western challengers. The fans were naturally divided in half – Samsung cheers in the blue-lit aisles, waving white and black banners under the neon lights, NaJin White Shield fans waving white beacons in the red, either foam sticks lit up with LED or inflatable thundersticks emblazoned with the team logo. When one side made a big play, the whole stadium cheered – but one side with more enthusiasm.
But they all cheered when the players went on-stage. This is where OnGameNet's production really shines – it might have screwed up the stream, but its live presentation was beyond critique. The rotating platform, the coordinated turn-around for the camera, and the music-timed pyrotechnic punctuation didn't just feed the hype – it was an explosive nitro injection. While it lacked the pomp and ceremony of the 2013 Summer finals, it did advantageously lacked last year's rainstorm to distract the live audience from the action.
You can sometimes hear the cheering on stream, assuming it wasn't deliberately filtered out by the event producer. At a live event, you feel it when a team pulls off a major stunt. When Dade's Kassadin secured a quadrakill on Kassadin, kicking off his reclamation of the title of King of Spring, his accomplishment was underlined with a bone-shivering quake, the audience's heightened mood transmitting like bolts of lightning.
There's a difference in flavor between feelings of excitement and shock, and Spirit was a conduit for the latter. His game three match was exemplary of that nuance: Kha'zix is especially appropriate for a shock and awe campaign, as the suddenness of his assaults left the audience gasping, even as they – unlike the poor Shield players – saw him coming. But the greater shock might be to the Korean scene itself, as these had not historically been top-running teams. Blue and Shield's achievements are greater than that of placing in an OGN final, or in Blue's case winning the whole thing. They weren't just underdogs, like Ozone was during their history-making upset over Blaze's season-long streak. For the longest time, these teams weren't even considered in the same discussion as Korea's top four or five teams.
It took a few roster changes. It took deep soul-searching in the face of KT Bullets and SKT T1 K's former campaigns of dominance. And it finally took SKT K ruling the circuit with an iron fist for an unprecedentedly long time. But they were hungry, they were willing to do whatever it took, and nobody could ignore them now.
It is traditional in the majority of cultures to celebrate achievements with alcohol – and when Sword won a year ago, during the Winter split, my hazy memories are that of way too many shots of soju, and sharing beer and fried chicken with former Brood War Protoss player Kang 'Nal_rA' Min. This year, however, the soju wasn't flowing quite as freely, due in part to the end-of-season celebrations split between side-by-side restaurants. In its stead, caster Papasmithy and former Frost player Locodoco were having an unusually intimate heart-to-heart on girls and gaming. What stayed the same between the year was a sense of relief as the biggest and most important Korean League of Legends circuit drew to a close for the split: the loosening of neck- and bow-ties, and a relaxed and casual attitude.
A Change of Pace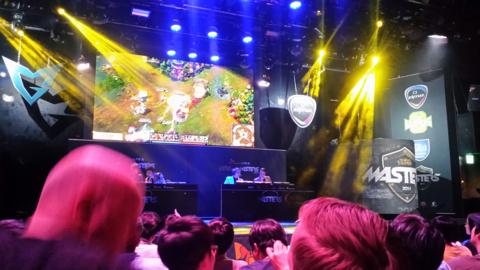 That sense carried through to the LoL Masters playoffs, just a couple days later. It was a much smaller studio, up at the top of a mall. It was hard to capture OGN's sense of grandeur and power when pizza boxes were scattered across the rows (a tasty barbeque chicken combo). Yet, even here, Blue and Ozone were loathe to give up the game, and CJ Entus, once the undisputed top organization of Korean LoL esports, was sent packing in two decisive games.
I recall, on the first night, carrying a complimentary box of pineapple cake, a Taiwanese delicacy, up a flight of steep metal stairs – very nearly ladders – to the rooftop of MonteCristo's apartment. The sound of gossip and shop talk increasing in volume with every step – industry veterans like Monte and Thooorin enlightening a newbie like OGN's new translator Emkay. The usual subjects, of course: catching up on the status of our peers, complaining about community drama, withering breakdowns on tournament and circuit organizers' inconsistencies and outright incompetence. My own increasing cynicism is like that of a growling puppy compared to those old wolves that have been in the thick and thin of esports through its decade and change of existence, and the veterans are all too happy to tear apart policy and vivisect every questionable move.
But with the warm winds of a promised summer and the glow of good wine, the neon red cross above in the distance seem to be blessing us, nonetheless. For our complaints, it is good to be here. For all the little episodes of pettiness and prima donna antics, it is good to be working as we are.
I can't wait to return in October.