Statistical Predictions for EU LCS Super Week, Alliance and SK go 4-0 while CW goes 0-4.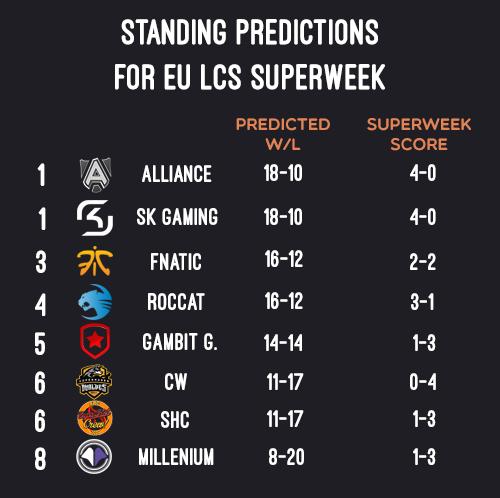 With the final week of a long split for LCS, Europe still is neck and neck with over half the teams within 1 game of each other. This lead to some interesting scenarios such as a possible 5-way tie for first or the possibility of the 6th place team ending up in a tie for first place. To take a more interesting look at the possible results, we made predictions on who would win, by weighing each team's season record (on blue side and on red side), their head to head matchup (if they went 3-0, 2-1, 1-2, or 0-3), and their last 5 games (since EU is so streaky). Here were the resulting standings:
These standings hold 3 ties, one for 1st, one for 3rd and one for 6th. The 1st and 6th place ties go to a tie-breaker match, as both of these head 2 head (h2h) rankings would be tied (2-2). But the 3rd place tie would have Fnatic come out ahead (3-1 h2h), as we have predicted that Fnatic would beat Roccat this week, sealing the advantage for Fnatic. To examine each of the factors (season record, head 2 head record and last 5 games) we broke down each match game by game in this next graphic: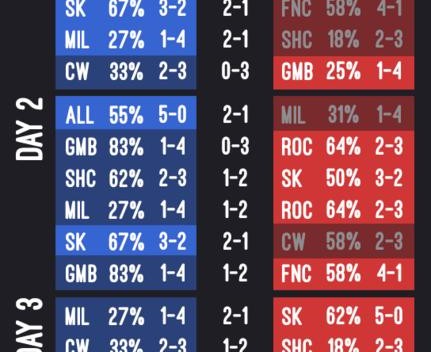 Out of these matches a few teams and stats stood out, worth breaking down a bit more.
Gambit Gaming
One stat that really popped out to me when I was doing this analysis was the discrepancy of Gambit's win rate on blue vs red side. When playing on blue side, Gambit wins 83% of their games, the highest win rate of any team on any side; however, on red side they only win a low 25% of games. Supa Hot Crew is the only other team that has a win rate that low is; 18.2% win rate on red side. This is a crazy difference and maybe can be seen as a reason for such an inconsistent team record.
SK Gaming
One noteworthy thing about SK's final week in the LCS is that they have a very weak schedule. Out of the 4 teams they play, it includes the 3 bottom teams (SHC, CW and MIL). When the top 5 teams are so close I think having such an easy schedule for super week is a huge advantage, and despite having a weak last 5 games (2-3), they should have a good shot at being either #1 or #2 at the end of this split.
Alliance
The last noteworthy team is Alliance, who is the highest favored team going into this super week. They have been on a 5 game winning streak, and they are favored in all of their head to head matchups going into this weekend (2-1 for each matchup).
Overall, since the standings are so close going into this last week, it's going to be a crazy week regardless, with possible tie situations up to a 5-way 1st place tie. I believe that Alliance and SK will come out on top of this week, and it will be a very interesting playoff season with 5 teams so close in skill that anyone could come out the winner.
Data collected with help by the onGamers Stats team: Derek 'Kathix' Adams, Steven 'whedgehead' Falgout, Kent 'Traepoint' Frasure, Jake Morales, and James 'PelkaSupaFresh' Pelkey. Design by Ben 'Sarcasmappreciated' Li.