ESL to expand into Thailand, Vietnam and Malaysia/Singapore with DOTA 2 tournaments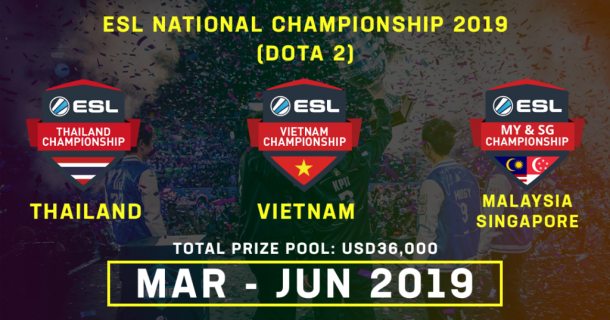 ESL is expanding its National Championship tournament structure to three more Southeast Asian regions. Having seen success in Indonesia, ESL Asia will be starting DOTA 2 leagues for Thailand, Vietnam & the combined region of Malaysia/Singapore. Each of the tournaments will feature 8 teams, competing for a prize pool of $12,000 (£9,100). Four online qualifiers will be held in the coming weeks, with the league slated to begin from April to May, with an offline finals in June.
Senior Vice President of ESL Asia-Pacific Japan, Nick Vanzetti said: "The National Championships represent our commitment to growing local esports heroes in Southeast Asia. Southeast Asia represents an expansive market filled with growth potential and some of the best teams in the region. We truly believe our approach can help facilitate more SEA players into the international esports scene, creating a true Zero to Hero story for the region."
ESL Asia began its expansion into Southeast Asia late last year, beginning in Indonesia and bringing the National Championship tournament series to the country. After Nick Vanzetti was appointed the Managing Director for the Asia-Pacific region, it signalled a push by ESL into the Southeast Asian region. Since then, they've focused on games popular in the region, such as DOTA 2 and Arena of Valor, hosting a "Clash of Nations" tournament later at the end of this month.
Esports Insider says: This was an expected move by ESL, with several job offers on deck for those regions floating around in the past month. Along with their headquarters in Singapore, look for ESL to continue pushing more tournaments in the area. Starting with DOTA 2 and Arena of Valor are smart moves to ensure guaranteed interest, but it's unclear how deep they'll expand their pool of game titles in the coming months.
ESI Forum Spring - March 22nd - Find out more...